Each year we see them... Christmas scrapbooking kits filled with deep reds and greens, sleighs, and lots and lots of snow. It makes it very difficult for me to find Christmas kits to scrap with since I live in Florida. So this year, I decided to solve my own problem and I'm sharing that solution with you. Presenting...
This fun, whimsical kit is dedicated to and perfect for everyone whose Christmas doesn't mean cold and snow. It's for northern hemisphere southerners, everyone south of the equator for whom Christmas is a summer holiday, people who vacation at Christmas time to escape frosty conditions, and anyone who has ever dreamed of a warm Christmas rather than a white Christmas.
Santa in the Tropics is loaded with 20 papers and more than 50 elements. There are so many possibilities with this kit. Just look at these layouts done by my fabulous creative team.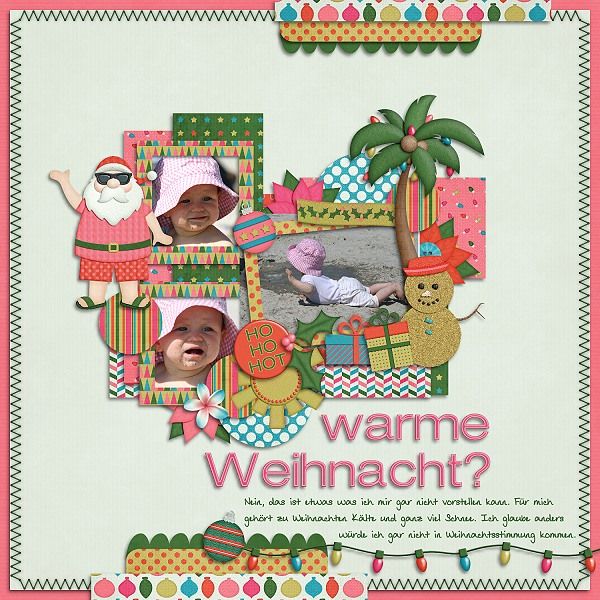 Martina
Jessica
Jo
Amy
Emmy
Emmy
Now is the perfect time to pick up Santa in the Tropics! It's 35% off through Sunday, December 16, but if you pick it up today, you can save an extra 10% by using coupon code SunnySanta10!
To get you into a sunny, warm Christmas spirit, some of my creative team members and I have made some freebies for you.
Here's my border cluster freebie. Click the image to download.
Thanks for visiting today, and remember to keep making and scrapping your memories!